10×20 Executive Gable Painted Shed
Metal Roof
Painted
Windows
Double Doors
Outswing Doors
Trimmed
Gable Roof
Multiple Financing Options available.
Over 400 Sheds and Buildings Available
Painted Sheds 
Painted sheds can be the very best addition to any backyard.  When you are looking for some different styles and even some great variety then you should know we have what you need. You have to have a shed that has to be used for something whether it may seem important or not.  Painted sheds are definitely going to be great for anything that needs storage.  We will provide you with the best shed Products that are proven they are built to last. SO, when you have a shed on your property and are happy and satisfied, that is all that matters us is our customers happiness.
Different Colors
When you are trying to choose the color for your shed there can be a lot of different options. It can be one that will match the surrounding area, or it can even be something like your very own favorite color. Then it may very well be the colors of your favorite sports teams. Having all of these options truly are amazing because you can even combine some. Or if you would like then you can have each wall be a different color. When it comes to showing off the beauty of your building you need to know that the sky really is the limit.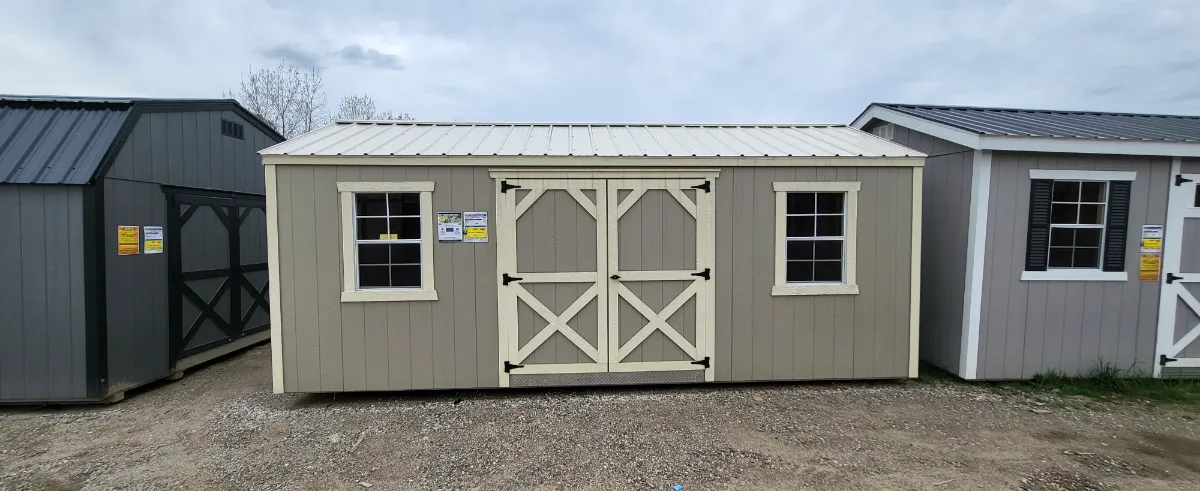 Standard Options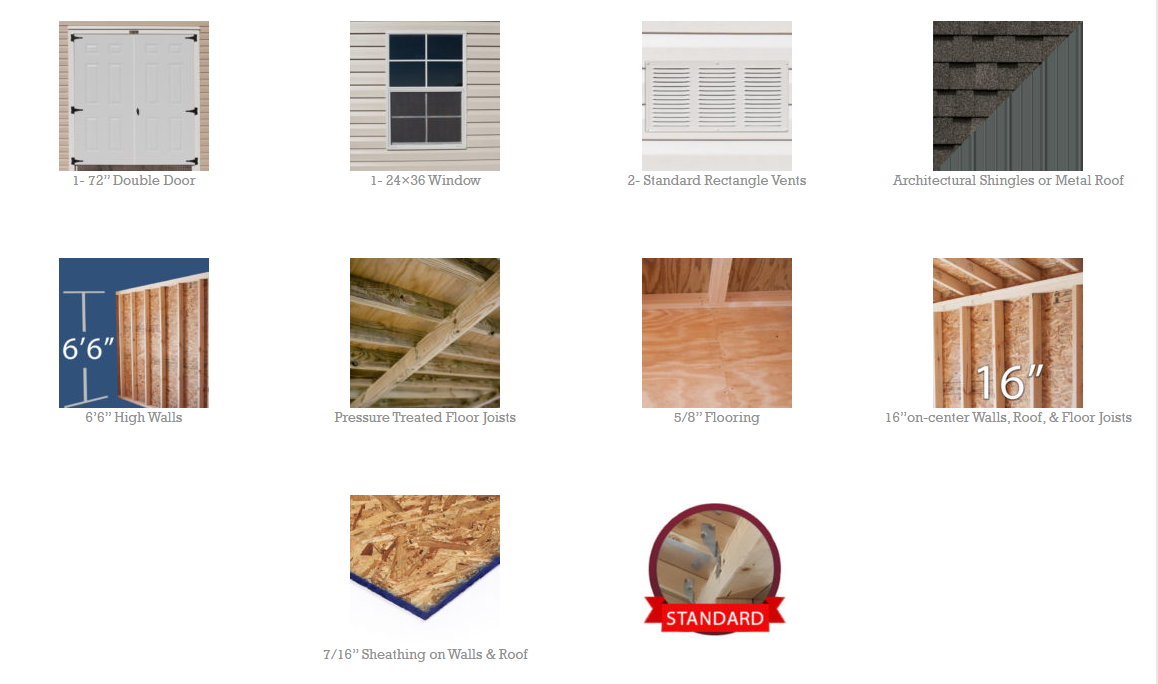 Color Options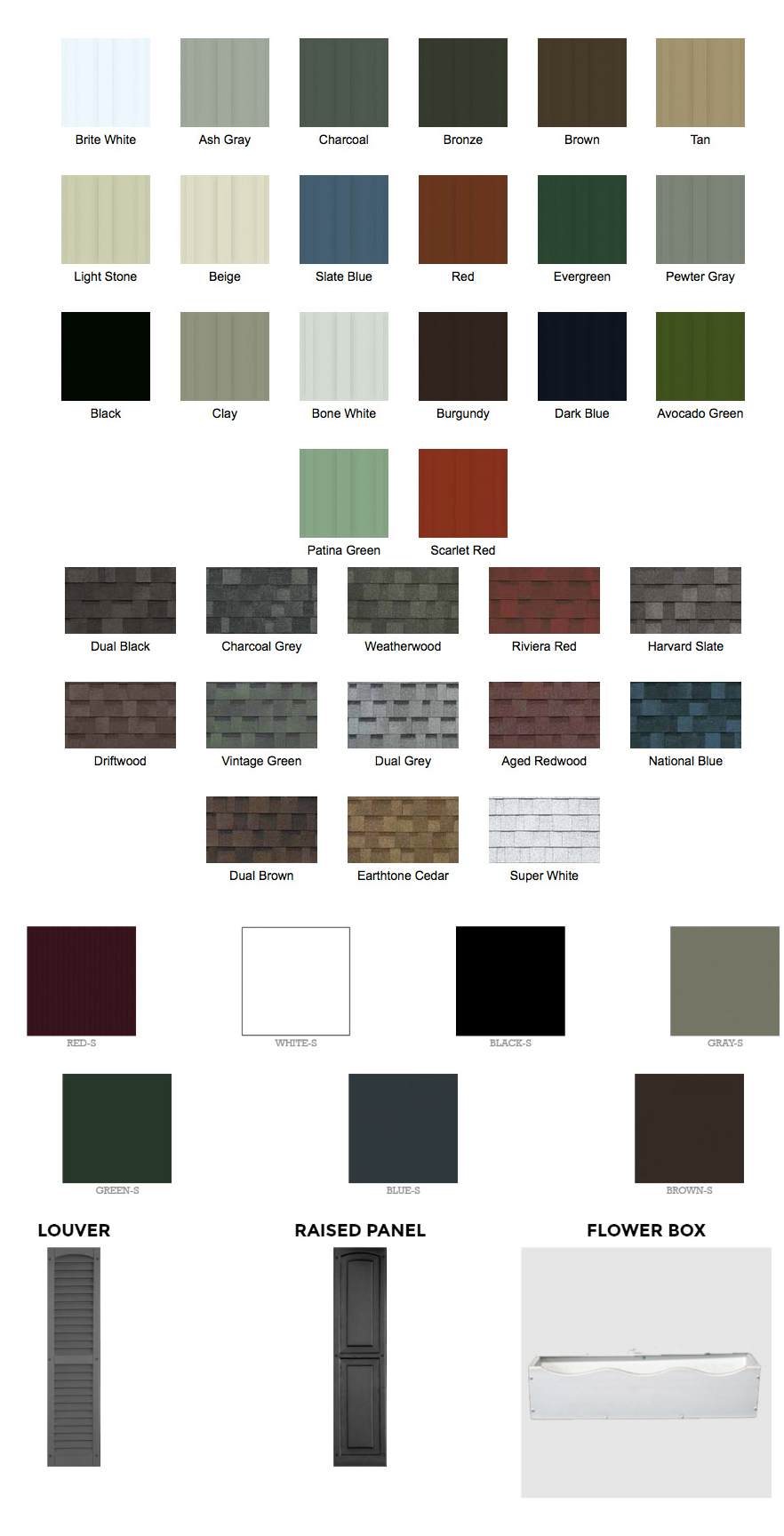 Building Sizes
Our Vinyl Deluxe offers you a tall wall with an attractive overhang. This is one of Hartville Outdoor Product's best sellers! If you are looking to enhance your backyard and add storage, look no further! TIP: Taller walls make bringing out your lawn tractor, golf cart, or other large items even easier.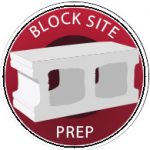 Size:
8′ Wide
10′ Wide
12′ Wide
14′ Wide
There will be an additional charge for each pillar that exceeds these heights.
Sizes:
12" on-center floor joists
2×6 floor joist upgrade
Partition Wall
Taller Wall Package (7')
Techshield (Roof Only)
Techshield (Roof & Walls)
50 Year Floor ¾"T&G (8' wide)
50 Year Floor ¾"T&G (10' wide)
50 Year Floor ¾"T&G (12' wide )
50 Year Floor ¾"T&G (14' wide)
Tread Plates SD
Tread Plates DD
Tread Plates GD
STRUCTURAL / PROTECTION
12" on-center floor joists
2×6 floor joist upgrade
Partition Wall
Taller Wall Package (7')
Techshield (Roof Only)
Techshield (Roof & Walls)
50 Year Floor ¾"T&G (8' wide)
50 Year Floor ¾"T&G (10' wide)
50 Year Floor ¾"T&G (12' wide )
50 Year Floor ¾"T&G (14' wide)
Tread Plates SD
Tread Plates DD
Tread Plates GD
INSULATION
Floor Only $1.00/sq ft
CERTIFIED / ANCHORING
Engineered Drawings
4 Anchors
Extra Anchors
DOORS
36" Single Door
36" Single 9-Lite Door
72" Double Door
72" Double 9-Lite Door
36" Single 4-Lite Door
72" Double 4-Lite Door
36" Prehung Single Door
36" Prehung Single 9-Lite Door
72″ Prehung Double 9-Lite Door
Burglar Bars
WINDOWS
24×36 Window
30×36 Window
30×36 Insulated Window
Window Security Bars (24"only)
Louver Shutters
Raised Panel Shutters
Vinyl Flower Box
VENTS
Ridge Vent
Octagon Vent (white)
1-Solar Vent
( suggested on: 8×8-10×16)
2-Solar Vents
(suggested on:10×20-12×24)
3-Solar Vents
( suggested on:12×28 and up)
INTERIOR UPGRADES
2' Deep Work Bench
3 Tier Shelves 1' Deep
4' Deep Loft
6' Deep Loft
8' Deep Loft
Pegboard 8'
Pegboard 10'
Pegboard 12'
Pegboard 14'
Heat & Air Unit
Air Conditioner
EXTERIOR UPGRADES
4' Porch -Vinyl Rail & Pickets
6' Porch -Vinyl Rail & Pickets
4' Porch -Wood Rail & Pickets
6' Porch -Wood Rail & Pickets
Ramp Section (15½″ x 70″)
4 Sections for Double Door
(not rated for heavy vehicles)
OVERHEAD DOORS
(upgrades to 12" on-center Floor Joists)
7' Wide Overhead Door (min 10')
8' Wide Overhead Door (min 12')
9' Wide Overhead Door (min 14')
Insulated Overhead Door
Windows in Overhead Door
Carriage Style Door
OVERHEAD DOOR OPENERS
Opener (+1 remote)
Additional remote
ELECTRICAL
Breaker Box
Light Switch
TamperProof Outlet /Receptacle
Interior Light
TamperProof GFCI Outlet
0% Interest Financing Available Or Rent To Own
WILL I NEED A BUILDING PERMIT FOR MY SHED?
Some areas require building permits for sheds and others do not, so check with your local municipality if you have questions for your area. We have a shed diagram that may be useful in the permitting process if you do find you need a permit (see shed construction).
DO THE SKIDS STAY IN PLACE BELOW MY SHED?
The skids below the barn are spaced correctly to fit the transport trailer but also stay in place after installation. If your barn needs to be built on a concrete pad that you wish to use as the floor we bring the barn as a kit and construct it on your concrete pad.
WILL YOU USE BLOCKS TO LEVEL MY SHED?
We do not normally level a barn using blocks, though in some situations for smaller barns we can use blocks for leveling. Let us know in advance if you believe blocking may work for your situation. Three things apply in the event we agree to try to level your barn with blocks: (1) You will need to provide ample blocks and have them on site before the barn arrives, (2) you may need to pay extra for the time needed to block the barn, and (3) we will not return to reblock a barn that has settled after installation.
HOW DO YOU BUILD LARGE BARNS, BARNS, AND GARAGES? HOW DO YOU BUILD TWO STORY STRUCTURES?
All larger structures take some final assembly at the job site. Sometimes a barn can be built and delivered in sections with the sections being joined on location. The second story of a two story barn is always finibarn at the job site. For some larger buildings the lower story is shipped as a kit with prefab walls rather than completed sections.
WHAT HAPPENS IF I NEED TO CANCEL AN ORDER FOR A SHED OR BUILDING?
A barn or barn order may be cancelled for a full refund before the order has been processed at the shop. The amount of refund after the order has been processed depends on the order itself and the amount of work that has been done on the order at the point of cancellation.
CAN YOU BUILD A SHED OR BUILDING AT MY SITE IF THE STANDARD DELIVERY DOESN'T WORK FOR ME?
If space or ground conditions do not permit delivery of a fully assembled barn or barn to your site we can bring the structure as a kit with prefabricated walls instead and assemble it on location. Building a barn or barn on site is less efficient than building it at the shop so we need to charge more when we build a barn or barn on site.
HOW DO YOU GET A STORAGE SHED INTO MY YARD?
The barn is normally assembled at the shop and brought to your location on a truck and trailer. The truck and trailer are then backed into your yard to the point where you want the barn, the trailer is tilted, and the barn is slid off the back of the trailer. An alternative method is to use a "mule," a specialized forklift used to move barns. Unlike a standard forklift the mule can be used in a yard. Get for more information about the mule.
We highly recommend checking out the sheds and barns at Hartville Outdoor Products! Although our house is fairly large, the garage is not sufficient for storing all of our outdoor items so we were looking for a storage shed. We were able to see many sheds and barns on site and Jason was very helpful as he took the time to walk around the lot with us and converse about our needs. When all was said and done, Jason showed us exactly what we wanted and priced it out for us. He then went one step further and showed us a few upgrades (a metal roof and an extra window!) available for just a couple hundred dollars more. The options available were more than we needed or expected but in the end we ended up with a very reasonable price, and a functional and aesthetically pleasing shed too.
Went here looking for a shed and was helped by Bill. He was very knowledgable, friendly, and honest. Went over all the options available and customizations we could do to our shed, they had a great selection too. Their products seem like great quality. Will definatly recommend to friends and family!
Great place for all of your outdoor needs. The kids love their new play set and my wife and I enjoy the glider. See you this fall for a shed!
His face is very nice as a really nice items for sale for your yard were you camping area I recommend if you're looking for something they are tourneys this is the place to go cheers Gables umbrellas so on and so forth
Wonderful quality, great service and overall enjoyable environment
Excellent selection. Knowledgeable staff. Friendly helpful
Went there not quite knowing what I was looking for but the friendlyl staff helped me make an excellent selection! Thank you for all your help and kindness! I will be back:)
Great place, friendly staff. Everyone on the lot was super helpful. I'd recommend this place to anyone!
Dave was fantastic to work with, not pushy at all to make a sale. Made things easy and explained things thoroughly. Couldn't be happier with our experience! Highly recommend!
Large selection of barns. Decent prices. Will probably get my barn there.
Great people and very helpful. They have two offices on the lot so if staff are not in one office they're in the other. Scott is very friendly and patient. If you're looking for outdoors stuff, you definitely have to come here.
Was greeted as soon as i pulled in. great family business with very knowledgeable staff.
Convenient Locations in Ohio, Delivery in Multiple States Available For Everyone