Executive Series Storage Sheds – Built to Last!
Estimated reading time: 6 minutes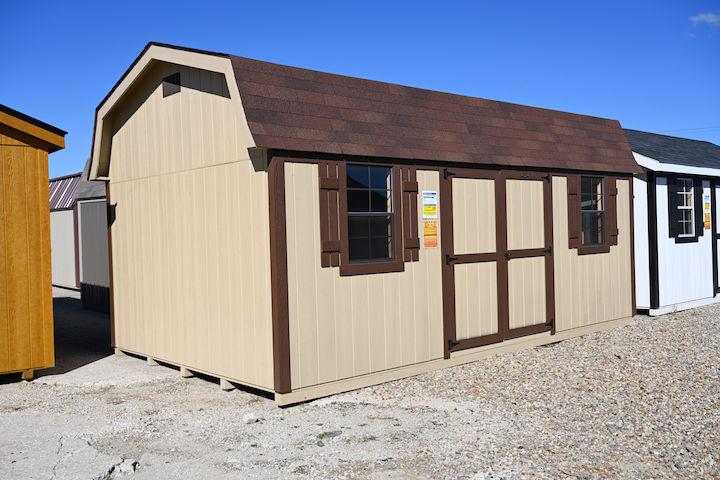 Lifetime Quality Storage Sheds
The Executive Series Storage Sheds are made from select spruce lumber that is highly durable and has a clean grain. All the Executive buildings come with a threshold protector on the entryways, and we place the floor Joyce wall studs and rafters every 16 inches instead of 24 on center like traditional builders. All Executive Series Sheds have hurricane clips that secure the roof between the walls making it one of the strongest in the industry. The Executive Sheds floor systems use 2 x 6-floor joists, which is twice the strength of a 2 x 4 that most competitors use. We also have an option for seamless rubber flooring called Lux guard to protect from odor, stains, and wood issues. Top-rated radiant heat barrier Techshield that will reduce the heat in the building by upwards of 20% and keep your building warmer in the wintertime; it's an extra wood layer for triple-layer strength. Need help with your needs in storage building options? Ask no more, we would love to help you get started with your idea.
Benefits of our Executive Series Sheds and How You Can Use Them
Long Lasting Storage Sheds
Storage Shed Home
Storage Shed Shelves
Storage Shed Ramp
Insulated Storage Sheds
Shed Tool Storage
Storage Shed With Porch
Generator Storage Shed
Custom Storage Shed
Yard Storage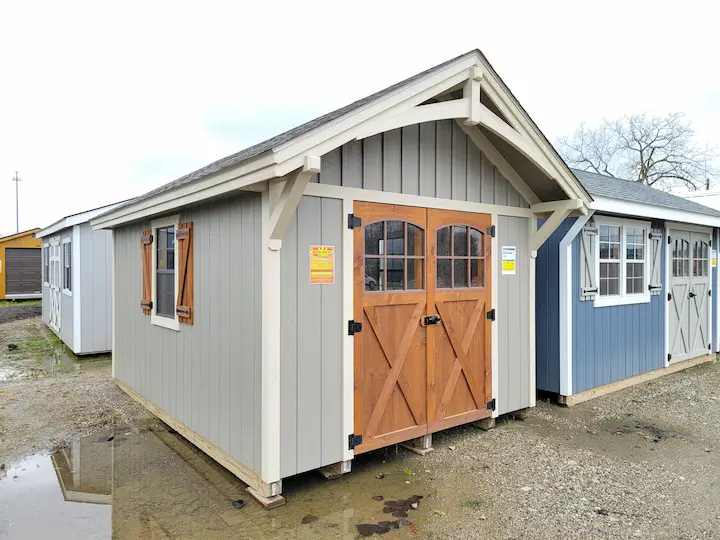 Executive Series Storage Sheds with Vinyl Exterior
Our vinyl storage buildings are a maintenance-free option available in a wide selection of colors. The vinyl exterior sheds still have the same features and construction of a wood exterior building with the vinyl siding. Other features include:
Steel roof-threshold hurricane ties.
Floor vinyl.
A six-panel maintenance-free double door.
Looking for a prefab storage shed that will last? Look no further than our Executive Series sheds! These buildings are constructed with vinyl siding, which makes them maintenance-free and resistant to weathering. We offer a wide selection of colors to choose from, so you can find the perfect match for your home. Our modernist design will add style to your backyard and provide you with extra storage space. Our modernist storage sheds are also a great option if you're looking for a contemporary style.
Executive Shed Styles
Vinyl Storage Sheds
Wood Storage Sheds
Metal Storage Sheds
Prefab Insulated Storage Sheds
Resin Storage Sheds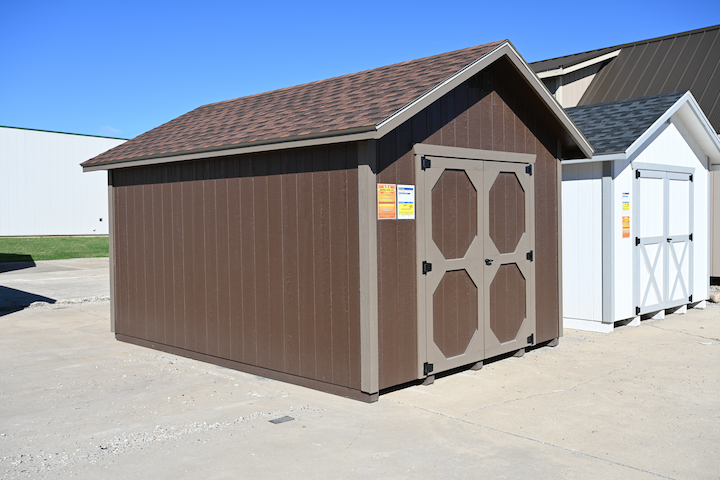 Modern Storage Sheds

Available
The prefab storage sheds are a great modernist option that is still built to last. The vinyl exterior sheds still have the same features and construction of a wood exterior building with the vinyl siding. This means you will not have to worry about maintenance and can enjoy your shed for years to come! Choose from one of our many colors to perfectly match your home. Contact us today to learn more and get started on your dream shed!
Available Executive Shed Sizing
10×10 Storage Sheds
10×12 Storage Sheds
10×14 Storage Sheds
10×20 Storage Sheds
12×10 Storage Sheds
12×12 Storage Sheds
12×14 Storage Sheds
12×20 Storage Sheds
14x 20 Storage Shed Garages
…And Many More
10×16 Storage Sheds Built To Last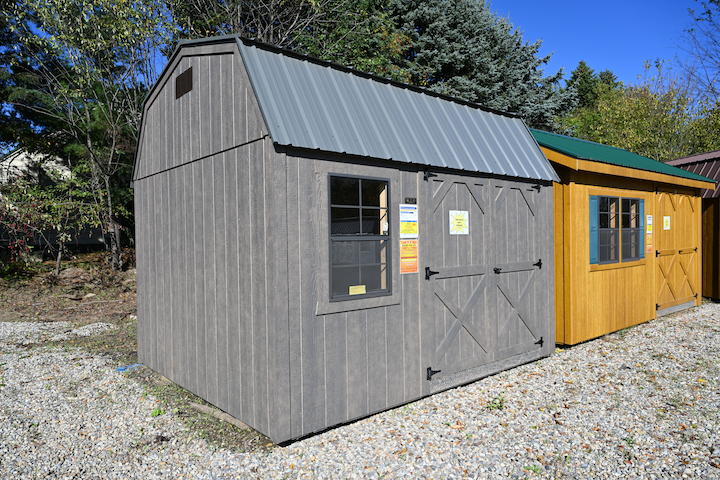 Our Executive Series are built 16″ On center for our wall, roof, and floor joists. Additionally, they are built with hurricane clips attaching our walls to the roof. The building will have 4×4 runners along the ground with 2x6s running perpendicular to them, 16″ on center. The flooring that sits on top of that will be our LP 50 yr. Rated Smart Floor Tongue and Groove. An additional option shown in the picture is our Techshield, a moisture and radiance border.
Tech shield is to help keep moisture from sitting inside the structure. It helps keep anything from rotting and helps keep the shed cooler and more comfortable in the summertime. Other options show a 24″x36″ Single pane window with screens. A 4′ Loft is also demonstrated that can be extended or shortened.
On the outside of the structure, we see that we have used an A-100 stain called Driftwood. We have placed a metal roof on the shed structure. Metal Roofs are rated at 50 Years and are not prone to wind, unlike shingles. Two-end vents will always be provided for all structures. Door Magnets are shown on this structure as an add-on. Trust me when we say that adding door magnets will be a life-changer. Never again will the wind catch your door and slam shut. Add a Threshold to your structure, too, so that way the edge of your building is not chipping away.
Looking for this amazing shed? Look no further!
Expand Your Search For The Perfect Shed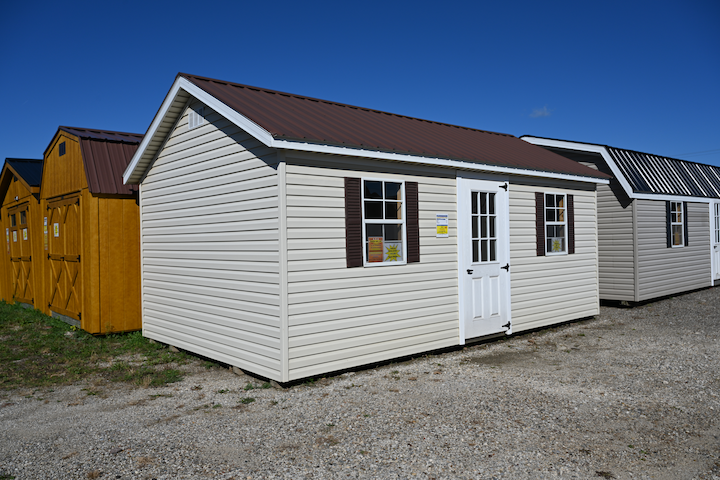 Executive Series Storage Shed units come standard with dimensional shingles or metal roof. The sheds include one 24 x 36 window and a set of 72 in.² double doors. Available in a barn or gable style. Come standard with 2 x 6 treated floor Joists on 4 x 4 runners. Executive Series Sheds are available in painted, stained vinyl, or metal siding. These can be built on-site or pre-built and delivered. There are 16-inch on-center roof walls and floor.
Available in a variety of sizes. Gable end vents are standard on all buildings. Sheds are constructed with LP Smart Side and other LP materials, and the Smart Side resists rot decay and termites. Available options include rough wiring, a 50-year tongue and groove floor, LP text shield radiant barrier, and many more. All units come with a limited lifetime warranty. Playhouse structures are also available.
The Executive Series Storage Shed is the perfect prefab storage solution for your modernist home. Our sheds are built 16″ on center, making them incredibly sturdy and durable. Additionally, our hurricane clips attach the walls to the roof securely, ensuring that your belongings stay safe and dry. The flooring is also LP 50 yr rated tongue and groove, meaning that it will withstand even the harshest weather conditions.
Finally, our optional Techshield moisture and radiance border ensures that your shed stays looking new for years to come. Contact us today to learn more about our Executive Series Storage Sheds! Hartville Outdoor Products is the perfect place to purchase a prefab storage shed that is built to last. With over 100 modernist storage sheds available, you are sure to find the perfect one for your needs. Hartville Outdoor Products has several locations throughout the United States in Ohio, so be sure to check us out today! You won't regret it!
Contact us today to start the conversation for your backyard project!