Cottage Shown with Options: 
(2) 2×3′ Windows
(2) Sets of Shutters
(2) Flowerboxes
(1) 9-Lite Door
Black Metal Roof
(1) 8×7 Garage Door
Standard Options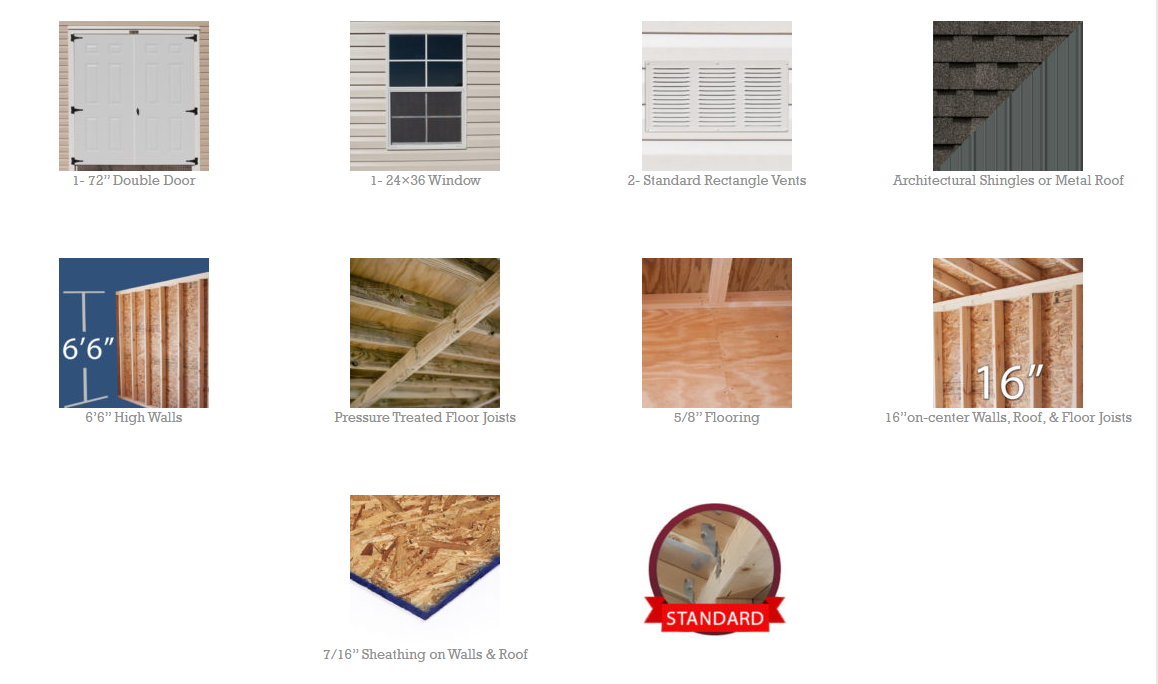 Color Options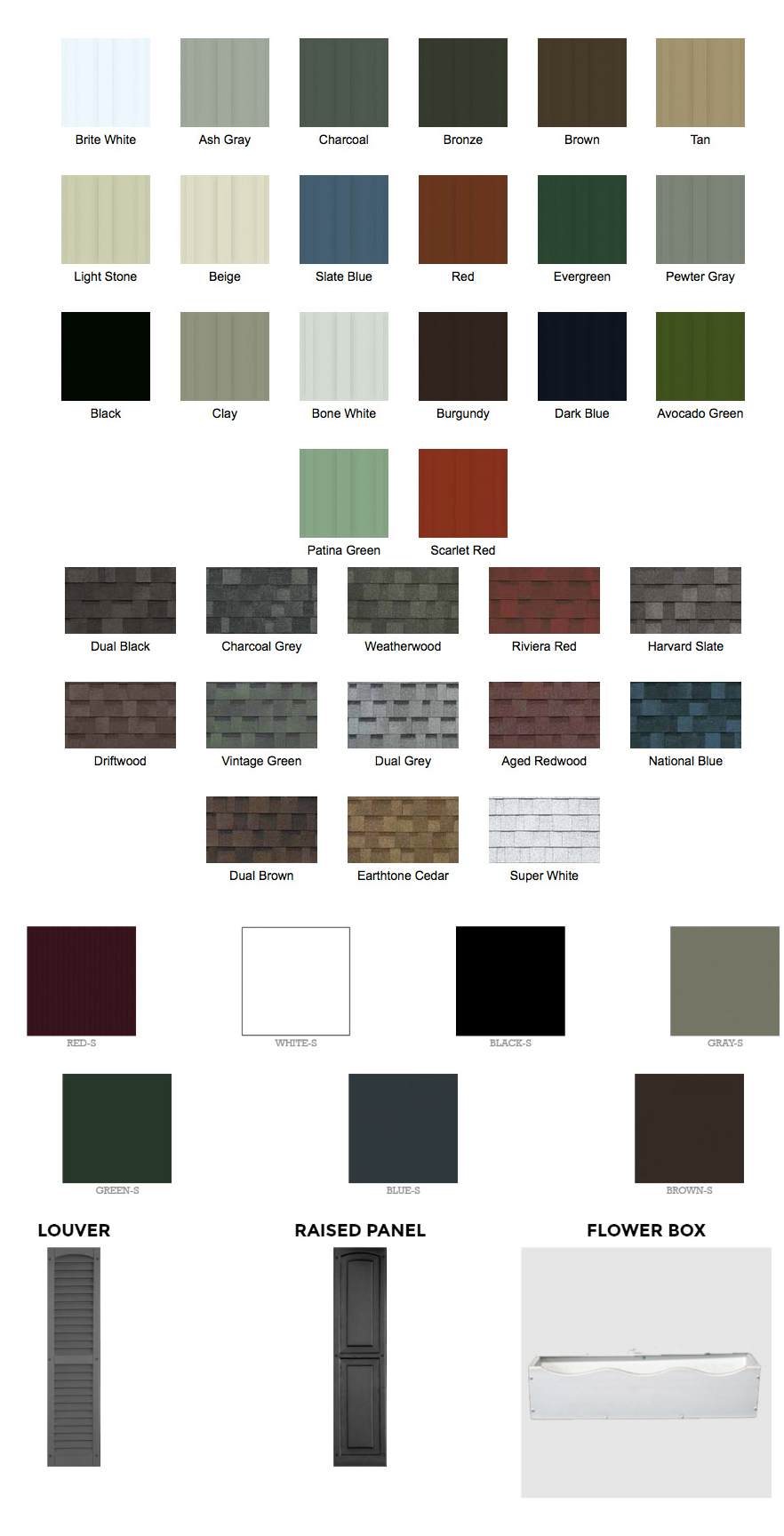 Building Sizes
Our Vinyl Deluxe offers you a tall wall with an attractive overhang. This is one of Hartville Outdoor Product's best sellers! If you are looking to enhance your backyard and add storage, look no further! TIP: Taller walls make bringing out your lawn tractor, golf cart, or other large items even easier.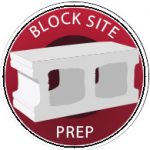 Size:
8′ Wide
10′ Wide
12′ Wide
14′ Wide
There will be an additional charge for each pillar that exceeds these heights.
Sizes:
12" on-center floor joists
2×6 floor joist upgrade
Partition Wall
Taller Wall Package (7')
Techshield (Roof Only)
Techshield (Roof & Walls)
50 Year Floor ¾"T&G (8' wide)
50 Year Floor ¾"T&G (10' wide)
50 Year Floor ¾"T&G (12' wide )
50 Year Floor ¾"T&G (14' wide)
Tread Plates SD
Tread Plates DD
Tread Plates GD
STRUCTURAL / PROTECTION
12" on-center floor joists
2×6 floor joist upgrade
Partition Wall
Taller Wall Package (7')
Techshield (Roof Only)
Techshield (Roof & Walls)
50 Year Floor ¾"T&G (8' wide)
50 Year Floor ¾"T&G (10' wide)
50 Year Floor ¾"T&G (12' wide )
50 Year Floor ¾"T&G (14' wide)
Tread Plates SD
Tread Plates DD
Tread Plates GD
INSULATION
Floor Only $1.00/sq ft
CERTIFIED / ANCHORING
Engineered Drawings
4 Anchors
Extra Anchors
DOORS
36" Single Door
36" Single 9-Lite Door
72" Double Door
72" Double 9-Lite Door
36" Single 4-Lite Door
72" Double 4-Lite Door
36" Prehung Single Door
36" Prehung Single 9-Lite Door
72″ Prehung Double 9-Lite Door
Burglar Bars
WINDOWS
24×36 Window
30×36 Window
30×36 Insulated Window
Window Security Bars (24"only)
Louver Shutters
Raised Panel Shutters
Vinyl Flower Box
VENTS
Ridge Vent
Octagon Vent (white)
1-Solar Vent
( suggested on: 8×8-10×16)
2-Solar Vents
(suggested on:10×20-12×24)
3-Solar Vents
( suggested on:12×28 and up)
INTERIOR UPGRADES
2' Deep Work Bench
3 Tier Shelves 1' Deep
4' Deep Loft
6' Deep Loft
8' Deep Loft
Pegboard 8'
Pegboard 10'
Pegboard 12'
Pegboard 14'
Heat & Air Unit
Air Conditioner
EXTERIOR UPGRADES
4' Porch -Vinyl Rail & Pickets
6' Porch -Vinyl Rail & Pickets
4' Porch -Wood Rail & Pickets
6' Porch -Wood Rail & Pickets
Ramp Section (15½″ x 70″)
4 Sections for Double Door
(not rated for heavy vehicles)
OVERHEAD DOORS
(upgrades to 12" on-center Floor Joists)
7' Wide Overhead Door (min 10')
8' Wide Overhead Door (min 12')
9' Wide Overhead Door (min 14')
Insulated Overhead Door
Windows in Overhead Door
Carriage Style Door
OVERHEAD DOOR OPENERS
Opener (+1 remote)
Additional remote
ELECTRICAL
Breaker Box
Light Switch
TamperProof Outlet /Receptacle
Interior Light
TamperProof GFCI Outlet
Cottage Garden 
Here we can offer you a truly remarkable unit for your backyard. We have a nice quantity beautiful cottage that will give your garden the extra flair your garden requires. Our cottages are available in a variety many unique of styles and sizes. This will definitely help you have a wonderful variety of great options. All of our cottages are made from high-quality materials so you will know that it is going to be built to last and have as a wonderful investment on your property.  You can add some great additions on your unit to give you more beauty in your backyard. Be sure ot check out all of the cottages till you have the perfect cottage for you.  Come see us today and see the difference a Hartville cottage can make in your garden or backyard.
Cottage Garden Ideas
There are many wonderful things when it comes to having a cottage garden. That would be all of the great and wonderful ideas that go with your very own backyard. Whether it is heavily plant based because that is your hobby. Or even if that may even end up entailing to have it be there just for the looks. Either case this is all made from your ideas. Plus, you can even build off of these themes with some nice garden sculptures and backyard pathways to some benches. Think of how beautiful a cottage garden in the moonlight on a flawless summer night would look, and that you can be the centerpiece of.
Also Available: Rent-to-Own. No Credit Checks
More Chairs With Footrest
We highly recommend checking out the sheds and barns at Hartville Outdoor Products! Although our house is fairly large, the garage is not sufficient for storing all of our outdoor items so we were looking for a storage shed. We were able to see many sheds and barns on site and Jason was very helpful as he took the time to walk around the lot with us and converse about our needs. When all was said and done, Jason showed us exactly what we wanted and priced it out for us. He then went one step further and showed us a few upgrades (a metal roof and an extra window!) available for just a couple hundred dollars more. The options available were more than we needed or expected but in the end we ended up with a very reasonable price, and a functional and aesthetically pleasing shed too.
Went here looking for a shed and was helped by Bill. He was very knowledgable, friendly, and honest. Went over all the options available and customizations we could do to our shed, they had a great selection too. Their products seem like great quality. Will definatly recommend to friends and family!
Great place for all of your outdoor needs. The kids love their new play set and my wife and I enjoy the glider. See you this fall for a shed!
His face is very nice as a really nice items for sale for your yard were you camping area I recommend if you're looking for something they are tourneys this is the place to go cheers Gables umbrellas so on and so forth
Wonderful quality, great service and overall enjoyable environment
Excellent selection. Knowledgeable staff. Friendly helpful
Went there not quite knowing what I was looking for but the friendlyl staff helped me make an excellent selection! Thank you for all your help and kindness! I will be back:)
Great place, friendly staff. Everyone on the lot was super helpful. I'd recommend this place to anyone!
Dave was fantastic to work with, not pushy at all to make a sale. Made things easy and explained things thoroughly. Couldn't be happier with our experience! Highly recommend!
Large selection of barns. Decent prices. Will probably get my barn there.
Awesome everything!!! Great quality products, great price, & great service! Bought a large 14×32 shed that I love and look forward to getting some poly furniture soon!!!
Great people and very helpful. They have two offices on the lot so if staff are not in one office they're in the other. Scott is very friendly and patient. If you're looking for outdoors stuff, you definitely have to come here.
Was greeted as soon as i pulled in. great family business with very knowledgeable staff.