Amish Poly Glider
Estimated reading time: 7 minutes
You may recently have been looking at many different gliders. Maybe it may have been different kinds of models. Or you could have been getting some new ideas for chairs and seats. You may end up liking the look of the poly outdoor gliders. Plus you could like the look of the wood gliders also. Either way the Amish poly gliders are the way to go because of their craftsmanship and durability. Also note that the gliders themselves are all around outstanding products for whatever use you have for them. Gliders will look absolutely magnificent in any setting that you may end up putting them in, outdoor and even indoor.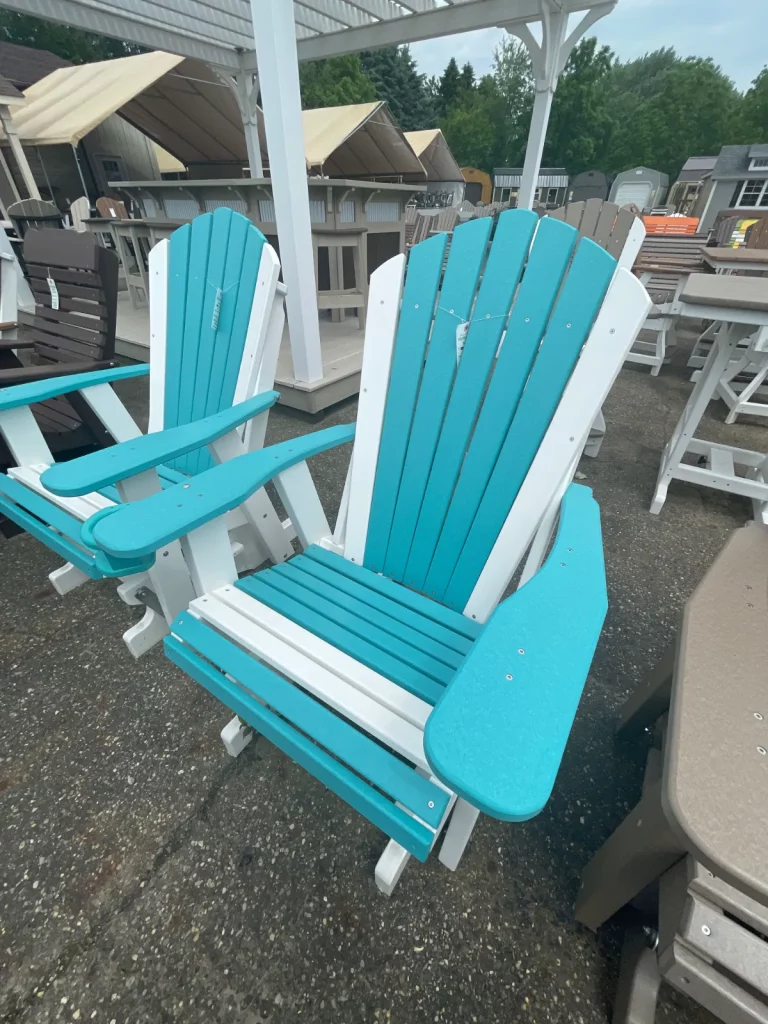 Amish Poly Glider At The Pool
One really amazing part about having a Amish poly glider is the many different locations that you can place these. One wonderful place would end up being at the pool and having it poolside. It may end up being at your porch that you bring them to for a place to sit and relax at. It could even end up being at the pool that you have at your very own home. This would really be wonderful because you will not have to worry about having a place to sit if you want to be outside and soak up the sun. This is excellent because when you need somewhere to relax outside your poly outdoor gliders will be right there for you. Or maybe it could be your wood gliders or even a combination of both as well. Some other magnificent things are that you wont have to worry about having your guests bring chairs or anything.
These gliders look absolutely astonishing and really compliment the pool area. Even if it not poolside they can really help capture the atmosphere. Plus the other fantastic thing is that you can even pick how they look. Like if you want some light colors to make complete a beach them you can accomplish exactly that! You can even end up painting your chairs with your name too. Or even some art that you like as well to complete your atmosphere. Plus these chairs can endure the harsh weathers that may beat some other chairs up. Amish poly gliders are really strong and durable and crafted with skill.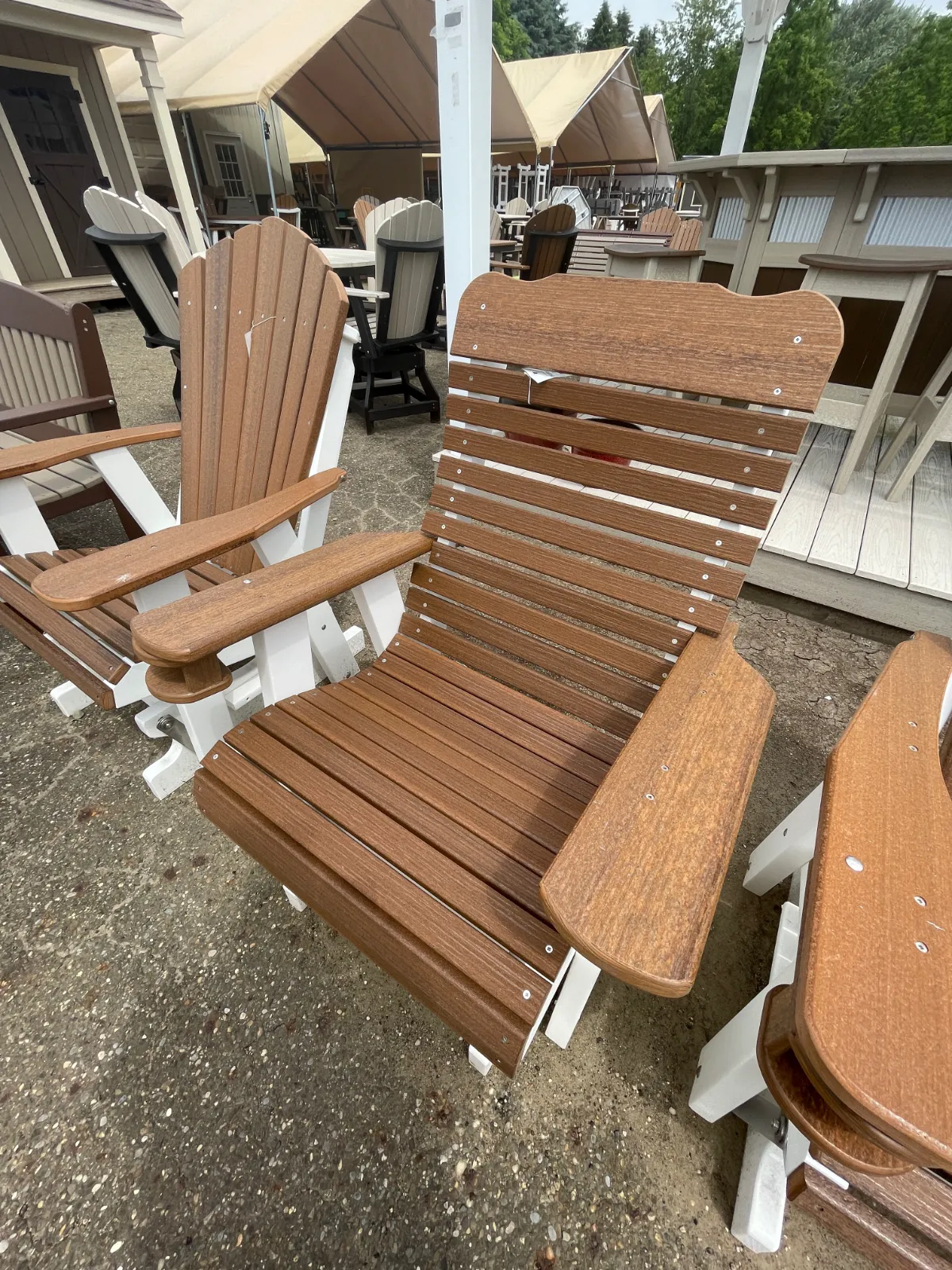 A Wonderful Porch Addition
One outstanding thing is having a beautiful porch setting. It has to be comfortable and also it has to be inviting as well. This may end up being on a wrap around porch with many social areas. Either way the Amish poly glider will end up enchanting any area on the porch that it is placed on. Or even they because you can get a few different models as well. You may have a few different gliders for a smokers section set up on your porch. Plus you may even end up having your very own kids area for the children to be at during dinner time. Then everyone will have an area to be social which can be very generous.
Also another neat thing about the Amish poly gliders is that there are benches as well. So you could even has this facing the way of the sunset. So at night you can sit there and watch the sun go down. Or maybe you are more of a morning person and would rather watch the sun come up as well. You may end up being a star gazer and watch the sky at night from your porch. Plus it is a very comfortable seat to watch the moon, especially a beautiful full moon. Even just being able to watch around nature and relax on a nice afternoon or evening can be extremely peaceful. This is why a Amish poly glider can be an outstanding porch addition.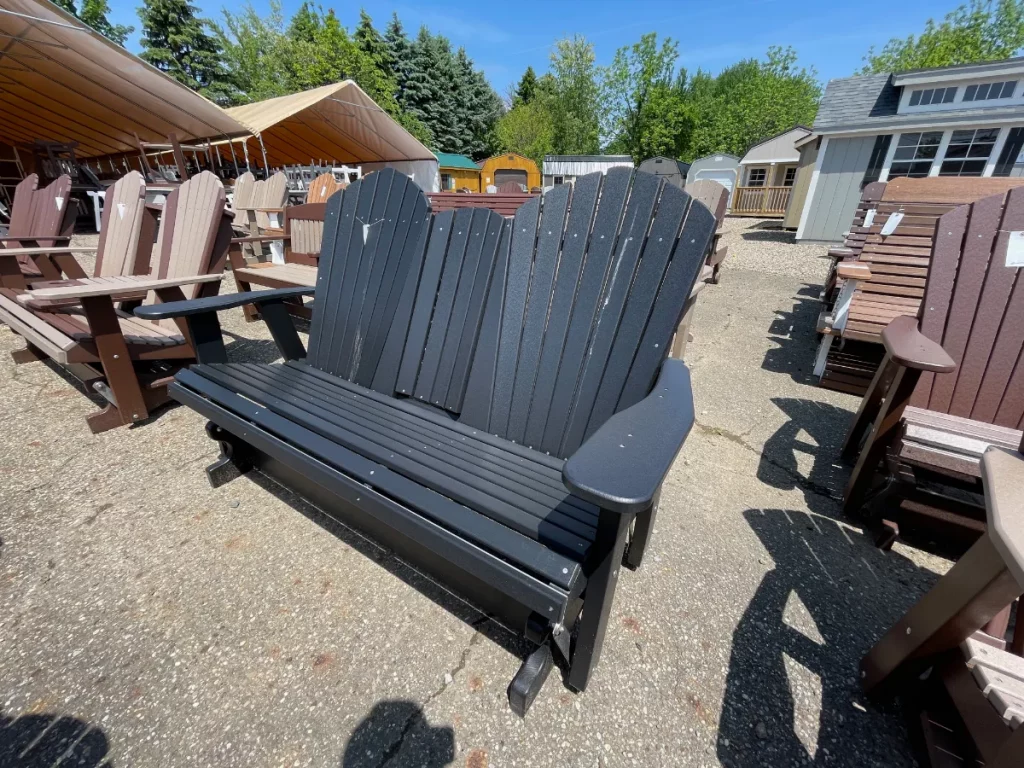 Amish Poly Glider Outside
So since the poly glider is highly versatile it is reasonable to think of all the different locations you would be able to place on of these. Maybe you could find one of these marvels at a park nearby. It could be by the playground area where you get to rest and watch your children play and have a grand old time. Or even just an outside recreational area where a lot of people gather for their children to play and interact with each other. Also another place you can probably find one of these may be inside of a touring place. It could end up very well being at a resting area. Another could even be at your local zoo in an outside resting area. Having these wood gliders outside can be truly a sight of happiness.
Another magnificent location may most definitely be at a waterpark. Or even at a private pool area as well that most people may not get the opportunity to go to. Even the beach most likely will have some of these really cool poly outdoor gliders. When you end up going on vacation to a tropical resort or something similar you will most likely see one. They could have easily as well have been at one of your friends houses that you recently visited. Or at your Childs friends house you recently have picked them up from too. Maybe a relative gave you the idea about it because they know you well and can help consider a good item for you. Whichever it was just know they are in a lot of locations because people highly enjoy them.
Closing
Well we have gone over a lot of useful information as well as some good setting ideas. After all a Amish poly glider is highly versatile for where you would like to place it. Whether is may be a nice place to have on your porch to watch the day change. Or even when you go to a vacation area then you kick back and relax on it. Plus you can even end up choosing the color that you most desire. Maybe you have a certain color scheme for your theme that will help complete it. This is excellent considering it can make your atmosphere that more appealing and fantastic. The Amish poly gliders may end up being your very seat to enjoy the happiness that life brings.